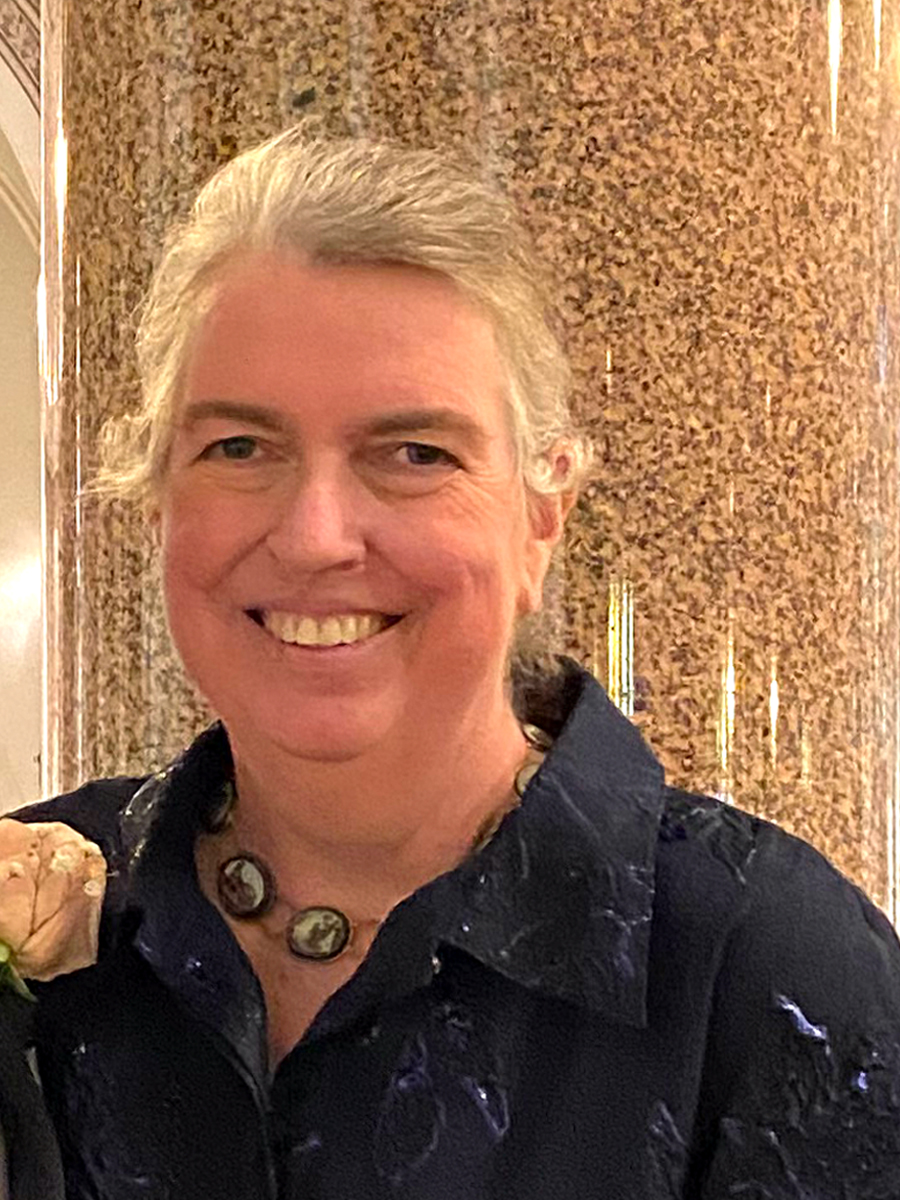 We mourn the loss of Rebecca (Becky) Hartley, who passed away on October 16, 2022
Rebecca (Becky) Hartley held the title of Assistant Vice President, Research Integrity & Assurance, in the Office of Research Innovation and Economic Impact. She oversaw the office, whose mission is to nurture and promote state-of-the-art research, scholarship, and creative work at Mason by providing resources that foster ethical and responsible conduct of research, and by ensuring that all research activities comply with rules and regulations. Becky graduated from University of Virginia Law in 1994 and spent 20 years in private practice at several Washington DC law firms.
From 2004, Becky also held the title of 
Assistant Coach for Throws for the Mason Track and Field Team. She coached dozens of athletes in
discus, javelin, hammer, shot put and weight throw–all
highly technical disciplines with complex rules. Track meet officials would occasionally misapply these rules and penalize athletes for permissible behavior. Becky, who knew the rules by heart, would invariably correct them. When event officials disagreed, Becky appealed to the head official. Becky corrected officiating to the benefit of all athletes, not just hers and not just Mason's. Becky thought every athlete deserved fair and even application of the rules and was compelled to act even if it hurt her team. In sports, as in life, her first loyalty was to fairness and equity. Make no mistake: Becky loved to win – but only by being the better competitor. That is who Becky was.
Mason is fortunate that Becky joined the university on a full-time basis in 2015. She brought significant knowledge and expertise, but more importantly, she brought the same ethical foundation she honed in private practice and around which she built her athletic program.  She protected the rights and interests of every party when resolving the often delicate cases her office is charged with overseeing. It didn't matter how sympathetic or unsympathetic someone was, how junior or senior their standing, or how awkward or straightforward their case. All were entitled to a full and fair hearing under the established procedures, with dignity and respect and, crucially, neither less nor more. Becky rooted for everyone, yet favored no one.
Becky believed that ethics are best fostered through strong relationships and clear processes. She liked to say, "I want to stand arm-in-arm with faculty if they ever come under scrutiny, and I can't if faculty hide when they hear me coming." Becky was fiercely protective of her staff, and when a staff member would pique a professor, Becky asked the professor to bring that grievance directly to her. Sometimes, they just misunderstood a policy; other times, the policy needed improvement. Becky would invite the professor in for tea, hear them out, and restore calm. On a good day, the professor would leave ready to spearhead a solution they were sure was their own idea. Becky wasn't seeking credit; she wanted Mason to progress on the thousand small things that would make it a better institution. If credit for others made that happen, so much the better. That is how Becky made her organization serve the Mason community.
Becky loved helping others become better, whether it was in her office or the fieldhouse. A favorite remark was, "Bravo!  A year ago you couldn't have done that." For Becky, coaching was a chance to help students grow into young adults ready to improve the world. She displayed an uncanny ability to dissect her athletes' motions and mechanics, get inside their heads, and enable them to become the best versions of themselves, both on and off the field. One quote Becky often shared was "Life begins past your comfort." She encouraged her athletes not to fear failure but rather to take it head on and dare to be great. She lived these words every day as a role model, once even agreeing to officiate at the wedding of a track couple, despite having never done anything remotely like that before.  That is how Becky taught.
Leaders, coaches, and teachers make those around them better. Becky's influence on her family, her athletes, her colleagues, and her friends is deep and enduring.  You can experience this yourself the next time you face a dilemma.  Just ask, "What would Becky do?" More likely than not, you will find yourself on the right path.
Becky led a joyful life. She found joy in family,  in friends, in coaching, in teaching others, in learning new things. She found joy in sowing the invisible seeds of inspiration, not knowing which would sprout, but sure that some would thrive one or five or twenty years hence. She found joy in decoding the chemistry of cooking, whether for a family meal or a big party. She found joy in watching hummingbirds fight over syrup and songbirds impatiently await their turn at the suet. Becky especially found joy in flowers. She planted them, she coddled them, she photographed them, she shared them, she talked to them. The flowers talked back: "Look at me!  I'm adorable!" Which is why, come April, Becky will find a resting place amid a deafening chorus of Virginia Bluebells.
Link to the George Mason University obituary.
Link to Lancaster, PA obituary.